The Sevenray Project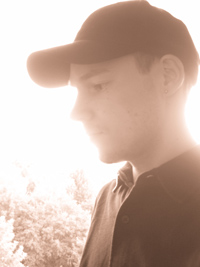 Good things come to those who wait. For many people the turn of the millennium has been a big party with lots of people. For rather calm and introverted 17-year-old Nick Button, the early morning hours of January 1st, 2000 have been the birth of his first song. Excited to having created something own and unique he composed around 120 songs in the coming 12 years.
His first songs were created entirely by ear. When he later took guitar lessons starting in 2005, he also learned musical theory. Since then he uses both the guitar and keyboard to compose his songs.
2005 was not only a year of musical heights for him. In the same year his mother died at an age as early as 43 years. This had a massive impact on his songwriting, and many of his songs from that time had a strong sense of pain, sorrow and hopelessness. One year later, however, he decided to take an audio engineering course, which has given him all fresh hope.
With the goal of an album release in mind, he composed atmospheric and energetic songs that are a kind of mixture between his musical role models Nightwish, Porcupine Tree, Pink Floyd, Sigur Rós, Vangelis, Kitaro, Nobuo Uematsu, Jim Steinman (Meat Loaf), Roxette, Tobias Sammet (Edguy/Avantasia) and soundtracks.
Nick himself categorizes his songs as "Dynamic Positive Progressive Power Symphonic Rock". Blessed is he, who can actually tell how that will sound like…
Right now, Nick is working on his best song ideas of the last years. He is planning to release his debut album in 2019 to finally bring these songs to you.