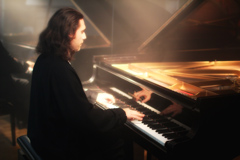 Andreas Svarc is a composer and pianist from Switzerland (Europe) who puts classical music, Jazz and Folk together in his songs. His musical worlds invite to dreaming and relaxation, as well as uniting different cultures. He is a cosmopolitan who lives out his passion through Smooth Jazz. His debut album "Excursion" will be released in 2014.
Czech-born Andreas got his first experiences as a pianist at the academy of music in Prague where he worked together with famous musicians. He decided to move to Switzerland to study at the Swiss Jazz School in 1995 to become a renowned pianist himself.
Jazz by itself, however, was not enough for him. He was equally fascinated by classical music starting from his early childhood. Under the supervision of Patrizio Mazzola, Albert Sielder and Dory Huber he achieved the teaching diploma for classical piano literature. Since then, open-minded Andreas has given piano lessons to young musicians.
He counts no one less than Erroll Garner, Oscar Peterson, Barry White, Quincy Jones, Marcus Miller and Joe Sample among his musical influences.
Timeline
1994: Andreas learns to play the piano at the age of 17
1995: Study at the Swiss Jazz School
2005: Release of some jingles on his homepage
2011: Diploma for classical music literature
January 2012: Co-founder of the label asme music
March 2012: Release of the vinyl single "Nesomajaka"
February 2013: Release of the single "Chill Out" with appendant video clip
May 2013: Release of the single "Excursion" from the same titled debut album
July 2014: Release of the single "Airplay"
Music style
His music could be classified as Smooth Jazz which has his charismatic piano playing in common. This symbiotic mix of Jazz, Fusion, classical music and Folk with electronic elements is making his music stand out from the masses and giving a good sonic variety. His first album is partially based on short jingles that he already released on his website, but at a later point arranged to become complete songs.
Success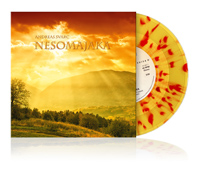 His first release is called "Nesomajaka", which has been released on March 7, 2012 as download and in a limited edition as 7" vinyl record.
December 2012 marked the breakthrough for Andreas, as he placed in the radio airplay top 3 of the internet radio Jango with his song "Running" (b-side of the single "Nesomajaka"). In 2013, his songs were taken on rotation by several radio stations in the US, Australia and in the UK. According to ReverbNation, he is the most popular Jazz artist of Switzerland (as of May 2013).
Side projects
All piano parts on Daniel Lippert's album "City in the Clouds" were played by Andreas Svarc.
Links
--> pre-listen and get all releases of Andreas here at the asme music store
--> connect with Andreas:
Pictures of Andreas Svarc (click to increase):
All releases of Andreas Svarc (click on the particular image to get more info):
Listen to music via Soundcloud (choose from 4 different preview samples):
Watch the official music video of the song "Chill Out":